Erklärvideo für Frontier Pharmaceuticals

Frontier Pharmaceuticals hat sich als Unternehmen auf medizinisches Cannabis als spezielles pharmazeutisches Produkt für präzise medizinische Bedürfnisse wie Epilepsie oder onkologische Indikationen spezialisiert.
Das körpereigene Cannabinoid-System ist für die Aufrechterhaltung des Gleichgewichts biologischer Prozesse von enormer Bedeutung. Das Endocannabinoid-System ist in fast jedem Gewebe des menschlichen Körpers vorhanden und beeinflusst neuronale Funktionen sowie Immunabwehr, Entzündungsprozesse und Stoffwechselfunktionen.
Die Cannabispflanze wurde lange Zeit stigmatisiert und ihre heilenden Eigenschaften ignoriert. Heutzutage erlebt Cannabis seine Renaissance und wird zunehmend bei verschiedenen Erkrankungen zur Behandlung eingesetzt. Der Umstand, dass so lange Zeit kaum Forschung zu medizinischem Cannabis betrieben wurde, hat dazu geführt, dass wir uns noch in den frühen Stadien der Entdeckung, des Verständnisses und der Nutzung des vollen Potenzials dieser Pflanze befinden. Deshalb führt Frontier Pharmaceuticals gemeinsam mit verschiedenen Partnern wie Forschungsinstituten, Ärzten oder Apothekern Forschungsprojekte durch, um das gesamte Leistungsspektrum dieser Pflanze aufzudecken.
Wir haben für Frontier Pharmaceuticals ein animiertes Erklärvideo produziert, dass die Funktion des Endocannabinoidsystems im Körper erklärt. Für das Projekt haben wir alle visuellen Elemente und Grafiken entworfen und im Anschluss in Bewegung versetzt.
Explainer Video for Frontier Pharmaceuticals
Frontier Pharmaceuticals is a company specializing in medical cannabis as a special pharmaceutical product for specific medical needs such as epilepsy or oncological indications.
The body's own cannabinoid system is of enormous importance for maintaining the balance of biological processes. The endocannabinoid system is present in almost every tissue in the human body and influences neural functions as well as immune defense, inflammatory processes and metabolic functions.
The cannabis plant has long been stigmatized and its healing properties ignored. Nowadays, cannabis is experiencing its renaissance and is increasingly being used to treat various diseases. The fact that there has been little research into medical cannabis for so long has meant that we are still in the early stages of discovering, understanding, and harnessing the full potential of this plant. That is why Frontier Pharmaceuticals carries out research projects together with various partners such as research institutes, doctors or pharmacists in order to uncover the entire spectrum of this plant.
We produced an animated video for Frontier Pharmaceuticals that explains the function of the endocannabinoid system in the body. We designed all the visual elements and graphics for the project and set them in motion.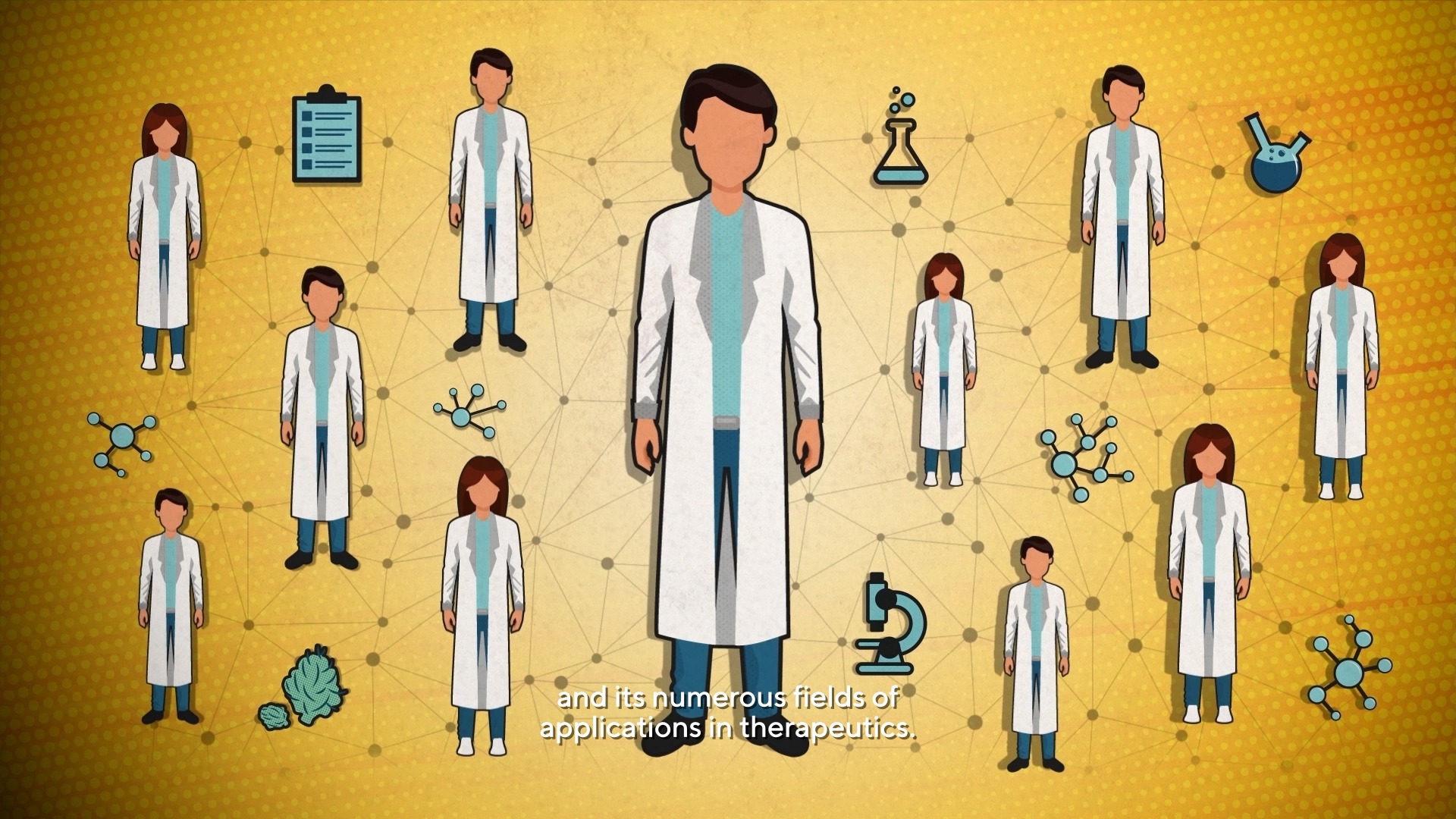 Client
Frontier Pharmaceuticals GmbH
Belziger Str. 33
10823 Berlin
https://frontierpharmaceuticals.de
SOFTWARE
Adobe After Effects
Adobe Illustrator
Adobe Premiere Pro